Welcome to Von Links Dachshunds web site!! We're a small band of dachshund fanciers who would like to share our wonderful experiences in the breed with you. Lucy Granowicz, Von Links Dachshunds (formerly Arimich), and Connie Delaney, CAD'S Dachshunds, are both located near Tampa, Florida. Ray Chaplin (Raymond H Chaplin), PBD Dachshunds, is in West Palm Beach, Florida. All three own, love, breed and show standard longhaired dachshunds, and Lucy has miniature smooth dachshunds as well. Our fourth member and very dear friend is Emily Ward in Cornish, Maine who nurtures both wonderful longhairs and junior handlers. She has taken several of our finished champions and put them back in the ring with up and coming juniors, the future of our sport. As enthusiasts and breeders of AKC champions we want to share with you, so please browse our site and enjoy yourselves.

New Puppies
CH Liberty Von Links SL "Libby" has just delivered five beautiful boys and three gorgeous girls on July 15th 2019. Click on the picture below to see what is still available.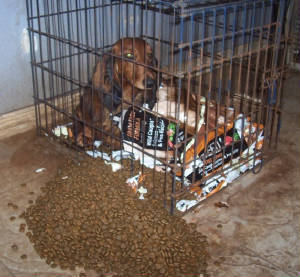 Beware
This is what could happen if you put a new bag of dog food to close to a wire crate with a dachshund in it.
Crusoe The Celebrity Dachshund
Calfornia Girl and her friend Cooper were lucky enough to meet Crusoe. He had a Pawograph party in the center of downtown L.A. There were a couple of hundred humans and dogs who came to meet Crusoe and his humans. The bookstore said that there was another author event that night and she (the author) was a little miffed that Crusoe's crowd far exceeded hers. Way to go Crusoe!
Labor Day Pool Party
Beating the Florida heat has Razz's puppies loving their new pool.
Click below to see some of these same puppies now in their new homes.
Safety First
Belle enjoying her weekend paddle boarding on the bay.
EARTH DOG TRIAL S
The purpose of Earthdog tests is to measure the dogs' natural aptitude and trained hunting and working behaviors when exposed to an underground hunting situation. Small Terriers and Dachshunds can compete in Earthdog Tests. At an Earthdog test, the dog goes through a wood tunnel in the ground and barks and digs at caged rats at the end of the tunnel. For more information on Earthdog, click on the "Earthdog" tab at the top of the Dallas-Ft. Worth Dachshshund Club's website:
Razz is meeting the rats that are going to be used in the Earth Dog Trials on March 7th and 8th hosted by the Florida Gulf Coast Dachshund Club.
News Flash
Munich Von Links MS (Nikki) ran her first Earth Dog Trial on March 7th and 8th and received her first leg towards her Junior Earth Dog title.
Way to go Nikki.
UPDATED
GLAMOUR DOGS
Second photo shoot now available. Many pictures have been chosen for 2011 Dachshund calendars. Willowcreek Press is one of the publishers.
CLICK ON THE PICTURE BELOW FOR THE CONTINUING STORY


Below is a list of associations to which we belong
National Miniature Dachshund Club
Florida East Coast Dachshund Club
Florida Gulf Coast Dachshund Club
FOR SHOW INFORMATION CLICK BELOW