CH ARIMICH BAILEYS VON LINKS SL

I started my career in the dog world on January 22 nd 2004. My mom, Cassie, gave birth to me and my littermates, Midori and Sambuca( also finished champions)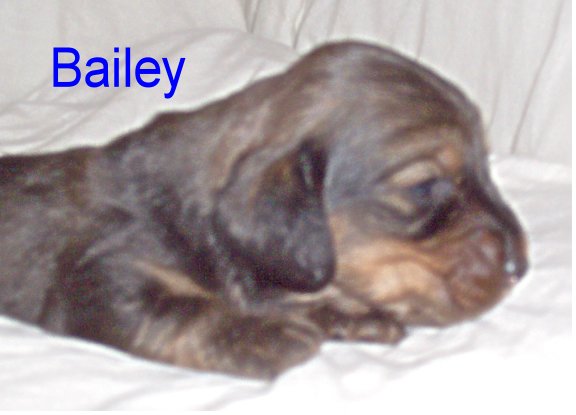 One of my first photos was at a few days old and everyone knew I was destined for a winning career. I lived with my breeder, Lucy, until I was ready to fly in a plane to Idaho.

Kat was the nice lady who was going to train and show me. I was sent to a great home and she knew I was going to be terrific !!!
As I grew and matured, Kat trained me to show in the conformation ring. I had a great time traveling, seeing the sites of the northwest and, of course, "struttin' my stuff". Katherine Schisel has been my owner, trainer and handler throughout and I would not have achieved the Eukanuba and Canine Chronicle standings without her.

The photos below are my latest accomplishments. At three and a half years old, look out Eukanuba...here I come.
Lewis & Clark Kennel Club
HG3 on 4/7/07
Thank you Dr. John C. Shelton
Spokane Kennel Club
HG4 on 5/27/07
Thank you Mrs. Sharon A. Krogh
Helena Montana Kennel Club
HG3 on 9/22/07
Thank you Mrs. Bettie L. Krause
HG4 Idaho Capital City Kennel Club
October 13, 2007
Thank you,
Ms. Marjorie Martorella
Kat has had dachshunds for 10 years now and bought her first show dog 4 years ago. She has finished 4 Champions and has now handled and put points on 3 other dachshunds. Most recently, she put 3 majors on a 7 month old mini wire. She is involved in Dachshund Field Trials and recently a friend of hers finished Kat's first Dual Champion. Kat has started another one of her dogs and he is now field pointed. She also has started in Rally and really has fun with one of her other dogs there. Bailey will get to do all these performance activities when he and Kat are finished with conformation showing.


Bailey showed at the Eukanuba National Championship but did not place there. He is still "tops" with us. His show career will continue as Kathy plans to start him in field trials.